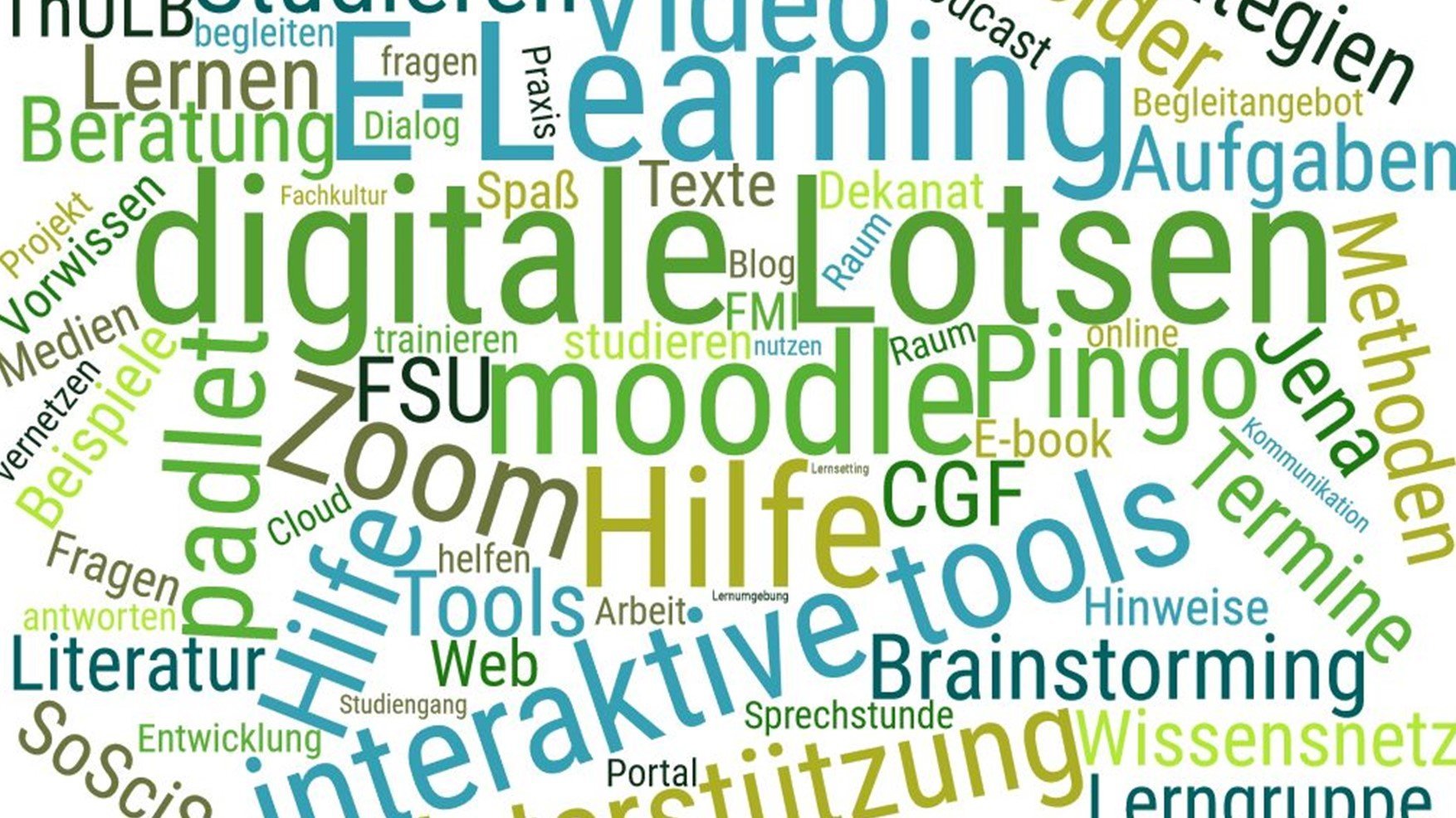 Digital learning and working
Information on digital tools and help for digital learning
Digital pilots - Wordcloud
Digital Pilots - Digitale Lotsen
The "Digital Pilots" (Digitale Lotsen) are students who support and advise other students in the use of digital tools. The programme started in summer 2022. Among other things, training courses and workshops are planned.
Your are a student and you need help with digitalised and self-organised learning and work? The "Digital Pilots" of the Faculty of Chemistry and Earth Sciences are also students and are happy to help you. You can reach them by e-mail at cgf-lotse@uni-jena.de or at the weekly consulting hours via Zoom.
"Digital Pilots": Workshops and more information about the consulting hours via Zoom deThe linked website is only available in German.
Further offers for digital learning
Digital tools for students and teachers, laptop donations, study workstations with internet, Digital Active Break, digital learning communities and much more: at the University of Jena there are numerous offers that make digital learning and working easier for students:Information and tips on your digital studies at the University of JenaPlease also check the German version of the linked website for even more information.
The Digital Learning Kit is a self-learning offer on Moodle on topics related to study organization, learning to learn, time management and studying in the digital space. The first module on the topic of "study organization" is already online, with further modules to follow step by step:
Self-learning units of the Digital Learning KitExternal linkThe University Data Centre (URZ) offers software licences for students, a notebook consultation hour, the possibility of printing and binding in its own printing centre and more:
Services of the University Data CentrePlease also check the German version of the linked website for even more information.